-
ARE YOU BRAVE ENOUGH?
Join us for a frightful night at the zoo! Every inch of the, usually charming, Texas Zoo will be transformed into your worst nightmare. Around every corner a new terror awaits with scenes that will haunt you when you attempt to close your eyes long after you leave. Adult beverages will be available to purchase outside to help calm your nerves and give you the courage you will most certainly need. Don't miss out on the scariest haunted house in all of Victoria! 
Dates:
October 18th - 21st
Time:
7PM - 12AM
Price:
$10/Entry
$25/Wristband (unlimited admittance over entirety of event)
Beer and wine coolers will be available for purchase at the gate.
All ages are welcome, but
mature audiences are recommended

. Same price for all ages.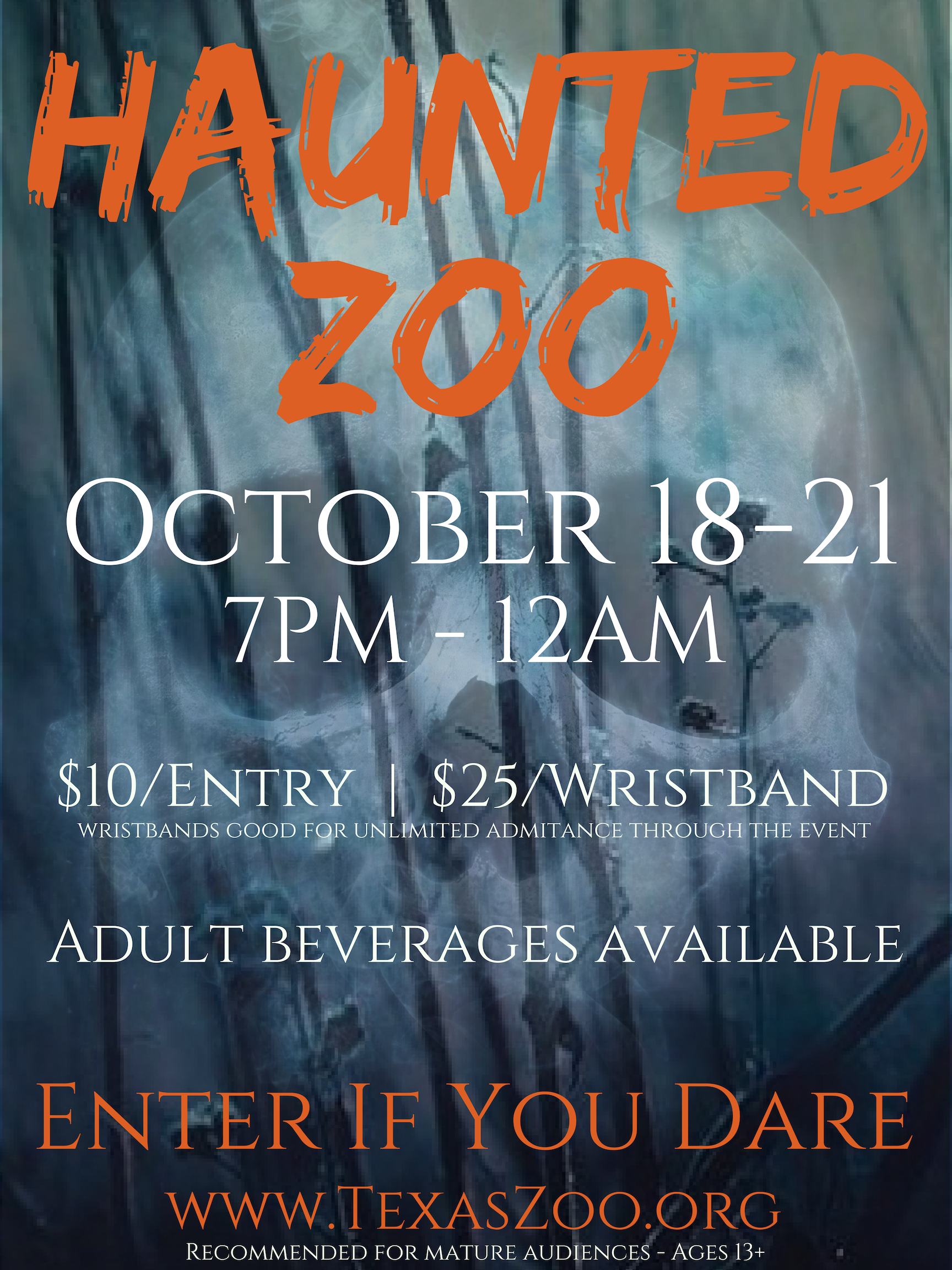 Individual
Sign up as an individual actor volunteer and be transformed into a terrifying monster and placed within the zoo at the event director's discretion. If you have a costume, please let our event director know, otherwise you will receive a costume when you arrive.
Group
The perfect option for organizations, clubs and corporations! Sign up as a group and take on a section of the haunted zoo as a team. Contact the event director to be assigned your theme and area. If you have a theme in mind or area in mind, be sure to let us known!
Makeup Artist
Volunteer your skills as a makeup artist to help our wonderful actors truly embody the monsters they are portraying!
General Sponsorship
Help Haunted Zoo be a success through general sponsorship by a cash donation. This sponsorship will be used to purchase props and other items necessary for the event.
Props & Products
Send the Texas Zoo any props, makeup, or other Halloween related products! Gallons upon gallons of fake blood, miles of fake cobweb, and an incredible amount of makeup are all needed to ensure the best Haunted Zoo around!
Own a Section
This option is fantastic for businesses and organizations alike! This year's Haunted Zoo will be broken down into horrifying sections and your business can make one their own! Contact Sandra Fitzpatrick for more details.
Contact Sandra Fitzpatrick for any additional information.
sfitzpatrick@texaszoo.org     (361) 573-7681